Products
Premium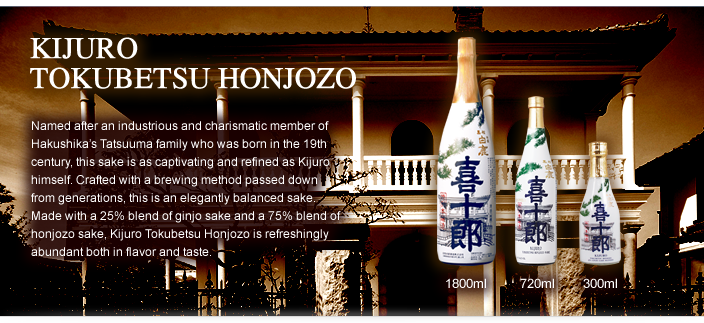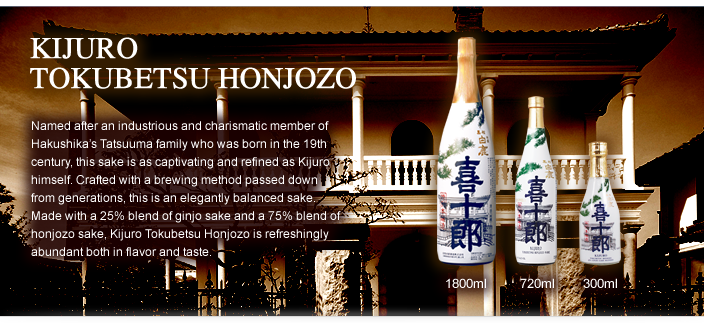 KIJURO TOKUBETSU HONJOZO
Named after an industrious and charismatic member of Hakushika's Tatsuuma family who was born in the 19th century, this sake is as captivating and refined as Kijuro himself. Crafted with a brewing method passed down from generations, this is an elegantly balanced sake. Made with a 25% blend of ginjo sake and a 75% blend of honjozo sake, Kijuro Tokubetsu Honjozo is refreshingly abundant both in flavor and taste.
Type:

Honjozo

Alc/Vol:

14.7%

Rice Polishing Rate:

Ginjo: 60% Honjozo: 70%

Nihonshudo (Sake Meter):

+3 (dry)

Serving Temperature:

Chilled, room temperature or slightly warmed
Food Pairing:
Excellent for pairing with both naturally strong flavored ingredients (beef, pork and fish) as well as lightly flavored ingredients (chicken, vegetables and shell fish). Matches well with oden (Japanese stew), grilled salted fish, edamame, steamed asparagus, and negimaki grilled beef and green onion.