Products
Unique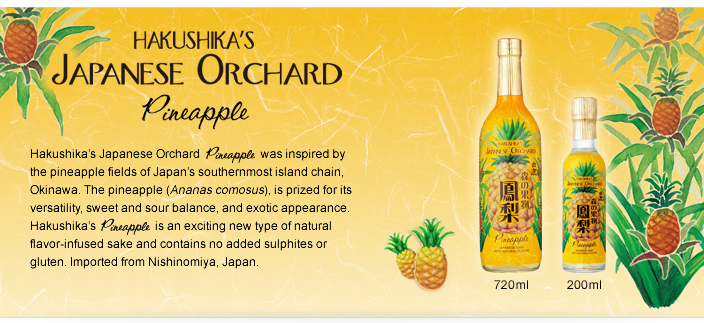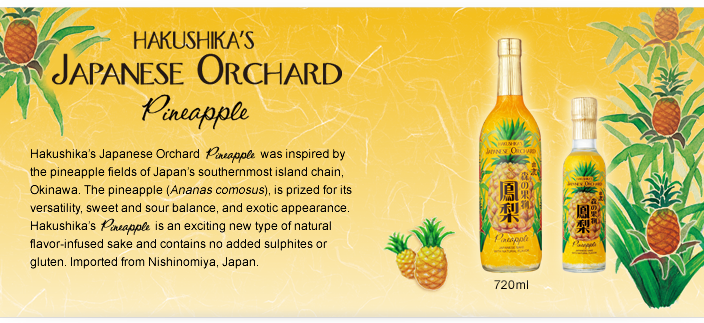 HAKUSHIKA'S JAPANESE ORCHARD PINEAPPLE
Hakushika's Japanese Orchard Pineapple was inspired by the pineapple fields of Japan's southernmost island chain, Okinawa. The pineapple (Ananas comosus), is prized for its versatility, sweet and sour balance, and exotic appearance. Hakushika's Pineapple is an exciting new type of natural flavor-infused sake and contains no added sulphites or gluten. Imported from Nishinomiya, Japan.
Type:

Junmai with Natural Flavor

Alc/Vol:

10%

Rice Polishing Rate:

70%

Nihonshudo (Sake Meter):

-25 (sweet)

Serving Temperature:

Chilled or on the rocks
Food Pairing:
Excellent for matching with pork (pork roast, ham and pineapple pizza), pasta seasoned with basil, seafood (grilled swordfish, tuna), lightly spiced tacos and chili, and fresh fruit salads. Also a superb choice paired with cilantro, coconut, teriyaki and tropical fruit flavors.


Tasting Notes:
Tangy and zingy with a hint of tropical sun-drenched sweetness, Hakushika's Pineapple has a vibrant and juicy character evocative of brightly hued fruit and warm island sunsets.
About the Fruit: Pineapple
The pineapple (Ananas comosus) is a relatively new fruit widely-loved by the Japanese. A native of South America, the pineapple was brought to Japan in the late 1800s as Western culture and tastes were becoming popularized. Although first produced in Japan on a small island near Tokyo, pineapples are now produced in Japan on the tropical Okinawan Islands.