Products
Yamadanishiki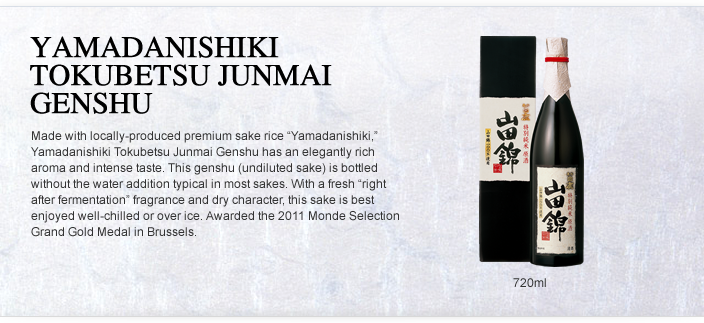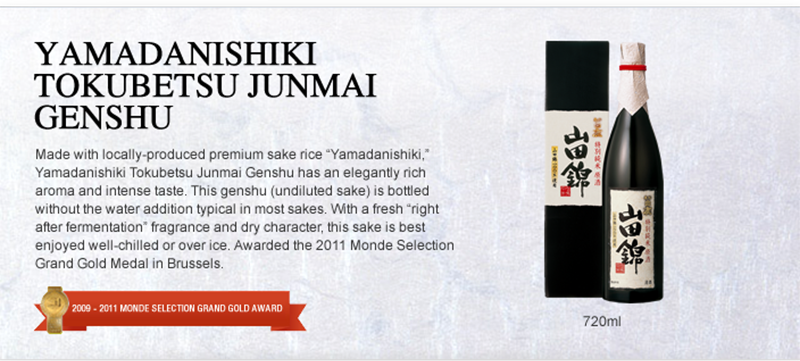 YAMADANISHIKI TOKUBETSU JUNMAI GENSHU
Made with locally-produced premium sake rice "Yamadanishiki," Yamadanishiki Tokubetsu Junmai Genshu has an elegantly rich aroma and intense taste. This genshu (undiluted sake) is bottled without the water addition typical in most sakes. With a fresh "right after fermentation" fragrance and dry character, this sake is best enjoyed well-chilled or over ice. Awarded the 2011 Monde Selection Grand Gold Medal in Brussels.
2009‐2011 MONDE SELECTION GRAND GOLD AWARD
Type:

Junmai Genshu

Alc/Vol:

18.0%

Rice Polishing Rate:

70%

Rice Varieties:

Yamadanishiki

Nihonshudo (Sake Meter):

+2 (mildly dry)

Serving Temperature:

Well-chilled or over ice
Food Pairing:
Excellent for matching with deep soy sauce based flavors (grilled fish, teriyaki dishes, sukiyaki, etc.) Also excellent as an aperitif.
2009‐2011 MONDE SELECTION GRAND GOLD AWARD