Products
Unique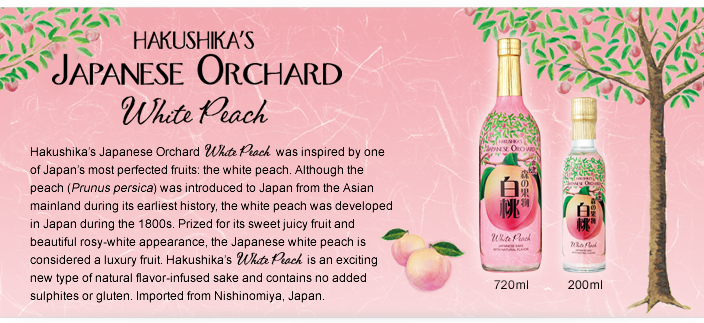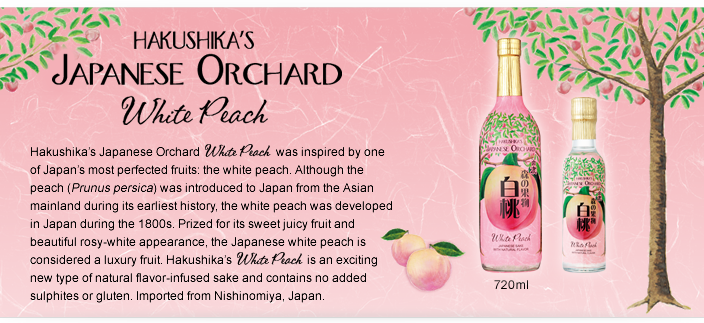 HAKUSHIKA'S JAPANESE ORCHARD WHITE PEACH
Hakushika's Japanese Orchard White Peach was inspired by one of Japan's most perfected fruits: the white peach. Although the peach (Prunus persica) was introduced to Japan from the Asian mainland during its earliest history, the white peach was developed in Japan during the 1800s. Prized for its sweet juicy fruit and beautiful rosy-white appearance, the Japanese white peach is considered a luxury fruit. Hakushika's White Peach is an exciting new type of natural flavor-infused sake and contains no added sulphites or gluten. Imported from Nishinomiya, Japan.
Type:

Junmai with Natural Flavor

Alc/Vol:

10%

Rice Polishing Rate:

70%

Nihonshudo (Sake Meter):

-25 (sweet)

Serving Temperature:

Chilled or on the rocks
Food Pairing:
Excellent for matching with green vegetable and fruit salads, grilled meats, pork (prosciutto, black forest ham) cheese (fresh mozzarella, goat cheese), and creamy desserts. Also a superb choice paired with berry, hazelnut, mint, and vanilla flavors.


Tasting Notes:
Luscious and succulent with an ambrosial aroma, Hakushika's White Peach has a delicate sweetness evocative of summertime orchard groves.
About the Fruit: White Peach
The white peach (Prunis persica) is considered to be a premium fruit in Japan and is often given as a present during the traditional Japanese summer gift giving season. Although the peach is native to China, it was introduced to Japan during the earliest known era in Japanese history. The white peach, however, was developed in Japan in the 1800s and became a newly recognized peach variety. The white peach has an attractive rosy skin and white, often red-tinged juicy flesh. A symbol of summertime, the white peach remains a beloved fruit of the Japanese.