Products
Unique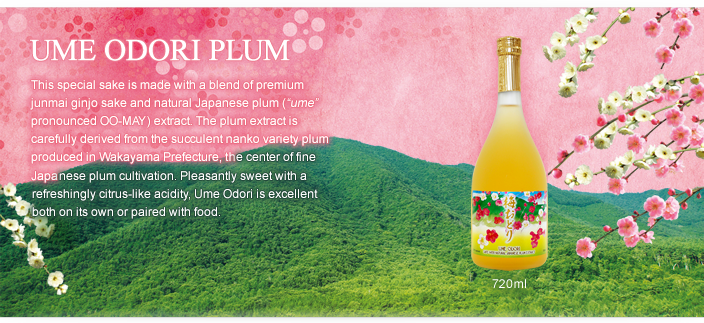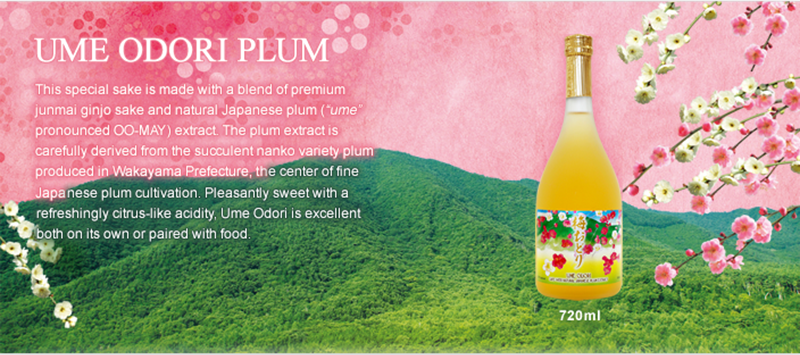 UME ODORI PLUM
This special sake is made with a blend of premium junmai ginjo sake and natural Japanese plum ("ume" pronounced OO-MAY) extract. The plum extract is carefully derived from the succulent nanko variety plum produced in Wakayama ecture, the center of fine Japanese plum cultivation. Pleasantly sweet with a refreshingly citrus-like acidity, Ume Odori is excellent both on its own or paired with food.
Type:

Junmai Ginjo Blended with Natural Japanese Plum Extract

Alc/Vol:

12.7%

Rice Polishing Rate:

60%

Nihonshudo (Sake Meter):

-68 (distinctively sweet)

Serving Temperature:

Well-chilled or over ice
Food Pairing:
Excellent for pairing with pork dishes (including pork shabu shabu, hot and sour pork, and sesame flavored yakiniku barbeque) and with desserts (ice cream, sponge cake, and fresh fruit).


About Ume Odori:
Ume Odori ("dance of the plum blossoms") is a unique sake made from a tradition that started in the 17th century when the Japanese found that adding natural ume flavor to junmai sake yielded a delightfully refreshing beverage. The ume, traditionally translated in English as "Japanese plum," is actually a type of apricot (Prunus mume) well-loved in Japan both for its fruit and blossoms. Known for its bold flavor and healthy qualities, the ume has been a traditional favorite in Japanese cuisine.